As a general rule, some of the worst people are attracted to the wold of politics.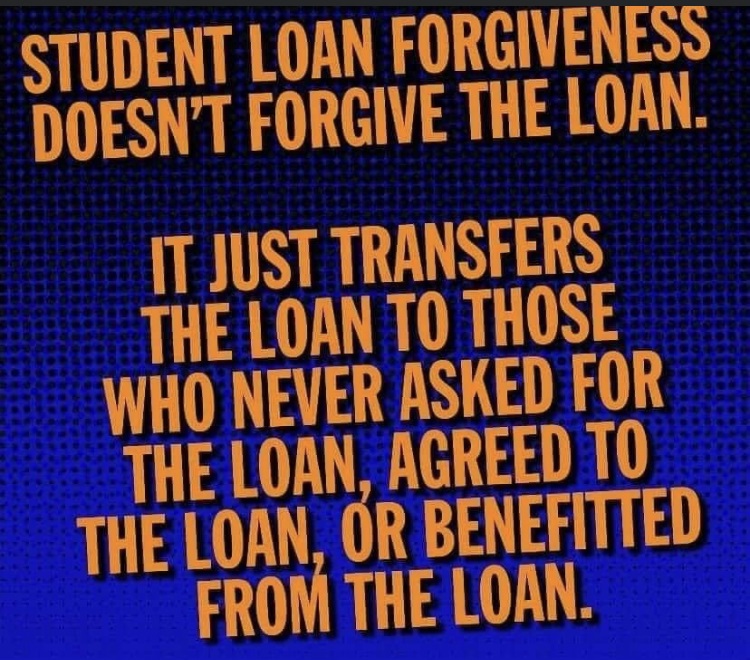 As such, we should never be surprised when politicians push bad policy.
But there are bad ideas…and there are really bad ideas.
At the risk of understatement, Biden's proposed scheme to "forgive" a big chunk of student debt is spectacularly misguided.
The challenge is identifying why it's wrong. There are so many possible answers.
Let's review some of the ways this is bad for the United States (you get to make your choice in a poll at the end of the column).
Redistributes from poor to rich
Subsidizes irresponsibility and penalizes responsibility
Abuse of power
More red ink
Higher tuition price
Awful precedent
To help determine which answer is best, let's review some recent analysis.
National Review editorialized on the topic. Here are some of the highlights.
Biden's student-loan plan will cost about $2,000 per taxpayer. …Biden is effectively telling all the people who didn't go to college, those who went to college but didn't borrow money, and those who went to college and already paid off their loans that they are suckers. …Federal student loans are already issued on very favorable terms. …The order caps those eligible for loan forgiveness at $125,000 in individual income, which is approximately double the median household income and hardly excludes anyone. …the president has…abused emergency powers to pursue a reckless and senseless policy.
In her Washington Post column, Megan McArdle savages the president's giveaway.
…the Biden administration announced that it would forgive up to $10,000 in student loan debt (up to $20,000 for Pell Grant recipients)… How many ways can a single policy be bad? This one could cost the federal government somewhere between $400 billion and $600 billion, completely unpaid for. Its legality is at best an abuse of the law to address the "national emergency" of upcoming midterm elections. …an extremely regressive policy, heaping benefits on the most affluent demographics, while leaving everyone else to pay the cost through some combination of higher taxes, lower benefits, or higher inflation and interest rates. Worst of all: What do Democrats do for an encore? …This first action will beget demands for a second and a third. …like trying to quit smoking by switching to unfiltered cigarettes. 
Honest folks on the left are equally upset about Biden's reverse redistribution.
President Obama's former top economic aide, Jason Furman, didn't mince his words.
And the editors at the left-of-center Washington Post were equally scathing.
The unemployment rate for people with bachelor's degrees and higher is just 2 percent. It's hard to make the case that college graduates are…facing an unprecedented crisis. …canceling student loan debt is regressive. It takes money from the broader tax base, mostly made up of workers who did not go to college, to subsidize the education debt of people with valuable degrees. …Mr. Biden's plan is also expensive — and likely inflationary. …Mr. Biden's student loan decision will…provide a windfall for those who don't need it — with American taxpayers footing the bill.
From a libertarian perspective, Elizabeth Nolan Brown of Reason denounced Biden's scheme.
Biden's basis for saying that the executive branch has the right to simply declare student loans forgiven is both egregious in its own right and troubling for the future of executive power plays. …The program amounts to a massive subsidy for middle-class Americans, as opposed to benefiting the most economically downtrodden or financially strapped. …the program "consumes resources that could be better used helping those who did not, for whatever reason, have a chance to attend college," as economist Larry Summers put it …there are many people for whom avoiding student loan debt or paying it off promptly meant making all sorts of sacrifices. Biden's loan forgiveness program says to them that this thrift, practicality, etc. may have been for nought.
By the way, Larry Summers was Bill Clinton's Treasury Secretary and also head of Obama's National Economic Council, so hardly a libertarian fellow traveler.
Here's more of his analysis.
Returning to libertarian commentary, Brad Polumbo of the Foundation for Economic Education adds his two cents.
…forcing taxpayers to pay down the roughly $1.5 trillion in government-held student debt is not a "progressive" policy by any stretch. …just one in three American adults over age 25 actually has a bachelor's degree. …college graduates typically make 85 percent more than those with only a high school diploma and earn roughly $1 million more over a lifetime. So any government policy that forces taxpayers to pay off loans held by a relatively well-off slice of society is actually regressive… Economists Sylvain Catherine and Constantine Yannelis crunched the numbers to conclude that full student debt cancellation would be a "highly regressive policy" and award $192 billion to the top 20 percent of income earners, yet just $29 billion to the bottom 20 percent. …other research from left-leaning institutions like the Urban Institute has reached the same conclusion. So, we're left with the simple fact that one of the Democratic Party's top agenda items is a taxpayer-financed handout to the wealthy. 
Charles Cooke of National Review also is not impressed.
Congress has passed no rules that allow down-on-their-luck presidents to throw money at people for political gain. As of yet, Congress has given no instruction that if the president's friends might like a little more cash, he can raid the Treasury to give it to them. Certainly, Congress has set up a loan program. But the deal there is rather simple, all told: First you borrow, and then you pay back what you borrowed. There is no mention of "forgiveness" days or of "help" or of rolling Chekhovian jubilees, and by pretending otherwise, President Biden is making a mockery of his oath to uphold the Constitution. …This isn't a reform. It's not even pretending to be reform. It's a contemptuous, abusive, unbelievably expensive shot in the dark… Joe Biden and his party prefer college students to you, and they think that those students ought to be rewarded for that by being handed enormous gobs of your money. Electricians, store managers, deli workers, landscapers, waitresses, mechanics, entrepreneurs? Screw 'em.
Robby Soave of Reason also is disgusted.
Biden's debt forgiveness plan will do nothing—absolutely nothing—to fundamentally change the incentive system that created the doom spiral in the first place. Degree-seekers will continue to borrow large amounts of money to buy useless educations; indeed, they might feel even more encouraged to do so now that this precedent has been set. Meanwhile, colleges and universities will have even less incentive to lower costs. …Forgiving student loan debt exacerbates this problem since it encourages more reckless borrowing. …It is a slap in the face to everyone who either paid down their college debt or made different educational choices to avoid accruing it. …Biden…simply engaged in a vast transfer of wealth, taking hard-earned money from those who did not fall prey to the federal government's scam and awarding it to those who did.
So what's the bottom line?
One obvious takeaway is that the party of the rich has provided another giveaway to their rich constituents. Think of it as the bailout version of the state-and-local tax deduction.
But I think this message might be the real moral of the story.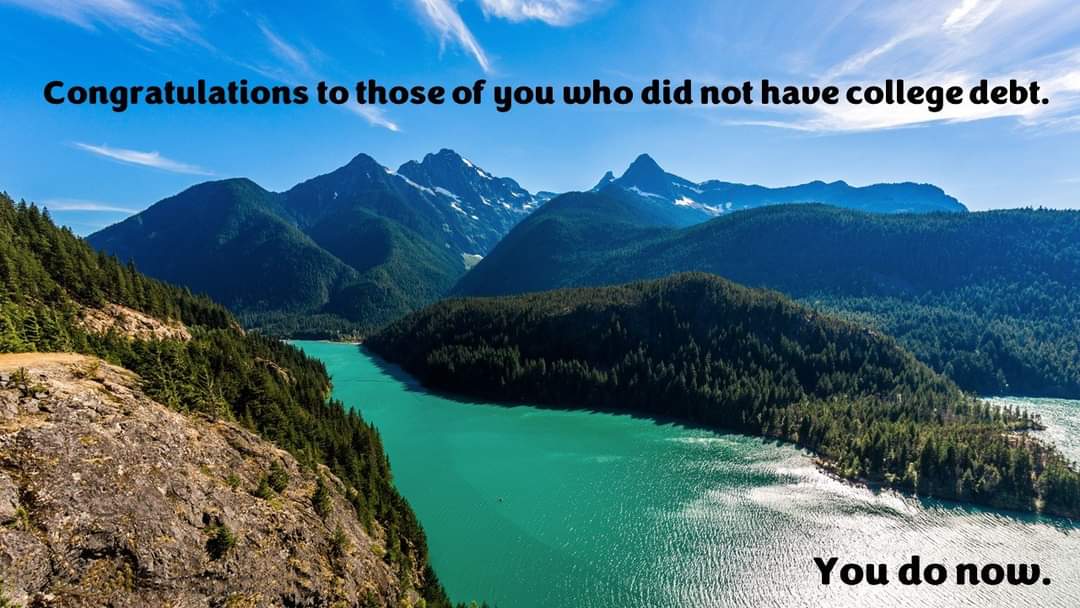 P.S. At the risk of influencing the poll, Biden's student loan bailout will give colleges and universities the leeway to further increase tuition, but you need bad monetary policy to get a sustained increase in the overall price level.
P.P.S. Cast your vote.