As a fan of globalization – but not globalism, I endorse this new video from Reason, which punctures myths from protectionists such as Donald Trump and Bernie Sanders (and Joe Biden).
If you don't have a spare seven minutes to watch the video, it addresses three specific points.
Does cross-border trade destroy manufacturing jobs?
Did liberalizing trade with China take American jobs?
Does trade make us vulnerable because of supply chains?
Plenty of good material, but I also would have challenged protectionists to provide a successful example of protectionism. Today or in the past.
Did protectionism work for Herbert Hoover – or anyone else – in the 1930s?
Did protectionism work for Juan Peron in Argentina in the 1940s and 1950s?
Is protectionism working for India's economy in the 21st century?
Did protectionism work for Donald Trump between 2017 and 2020?
The answer is no in every single case. So it is no surprise that scholarly research (see here, here, here, here, here, here, here, here, and here) shows that free trade is a better approach if a nation wants more jobs and higher income.
But protectionists make one accurate point. While free trade increases overall employment, that does not mean every worker in every industry benefits.
In his New York Times column, Peter Coy explores this topic.
The skepticism about free markets…has gotten only stronger…only 44 percent of Republican voters…viewed free trade mainly as an opportunity for growth through increased exports. …the standard Econ 101 argument for free trade… First, assert that trade increases prosperity by allowing each country to specialize in what it's best at. …Second, acknowledge that not everyone wins from free trade… Third, state that this problem can be easily solved: Everyone in society can be made better off if the winners share some of their gains with the losers. …In reality, the winners from trade rarely share much of their gains with the losers. The losers remain losers, and they often vote for candidates who put up tariff walls. …the free traders have failed to deliver on their promises to make free trade and open markets work for all.
A reasonably fair article, but I don't think "free traders have failed" for reasons I explained in one of my videos from earlier this year.
If you don't want to spend three minutes watching the video, I explain that all trade destroys jobs. And that includes trade within a nation.
It's part of "creative destruction," which I've labeled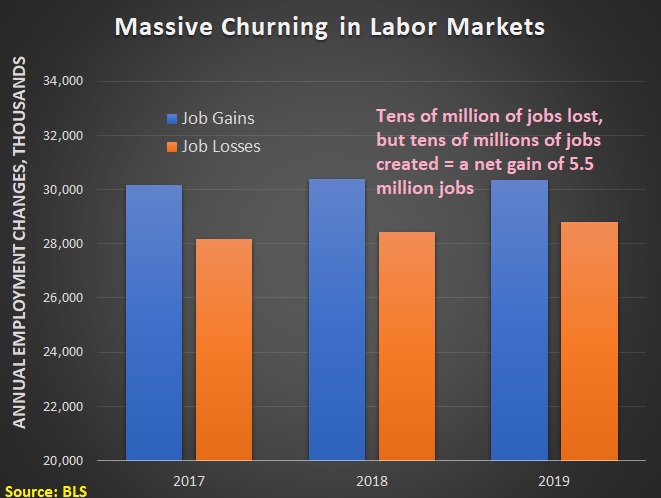 as the best and worst part of capitalism.
Millions of jobs get destroyed every year, in part because new technology, new competitors, and new innovations.
That's bad news for many people, but it's also the process that creates even more new jobs.
And it's the process that has made all of us so much richer than our ancestors. And that includes the ancestors of people who lost jobs because of domestic or international trade.
P.S. Click here, here, and here for some very sound observations from America's best post-WWII president.