How do we know people don't like taxes?
They tend to reject candidates who support higher taxes, as George H.W. Bush and other politicians have learned.
Then tend to vote against higher taxes when given an opportunity (though they sometimes will vote to tax other people)
They tend to migrate from high-tax jurisdictions to low-tax jurisdictions for direct and indirect reasons.
Today, we're going to elaborate on the final reason.
Let's start with this chart from one of the daily missives from the Committee to Unleash Prosperity. As you can see, it's not just people that move. It's their money as well.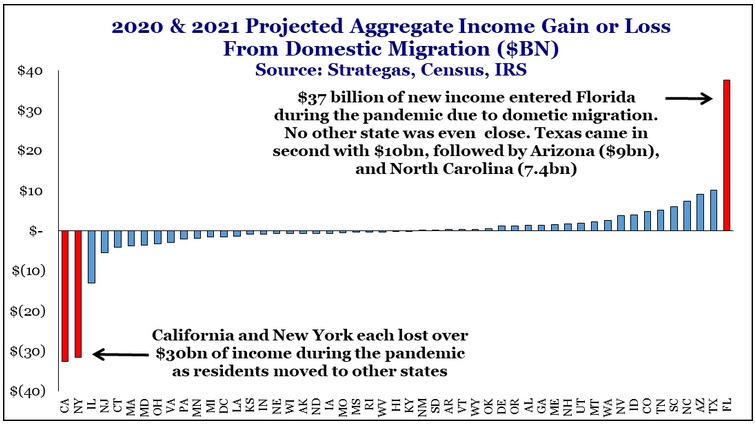 The bottom line is that the two states – California and New York – with ultra-high tax rates are losing the most taxable income.
Let's call this the revenge of the Laffer Curve because it shows us that high tax rates can backfire.
Jon Miltimore addressed this topic in a new column for the Foundation for Economic Education.
Here are some of the highlights, starting with some data on how some poorly governed cities are losing residents.
Three of the top five metros that saw sharp declines between July 1, 2020, and July 1, 2021 were in California. Leading the way was the Los Angeles-Long Beach metropolitan area, which lost 176,000 residents, a 1.3 percent drop. Next was the San Francisco-Oakland-Berkeley metro, which saw a decline of 116,000 residents (2.5 percent decline), followed by San Jose-Sunnyvale-Santa Clara, which shed some 43,000 residents (2.2 percent drop). …The New York-Newark-New Jersey metropolitan area saw a decline of 328,000 residents, the highest in the nation in raw numbers. The Chicago area, meanwhile, saw a decline of some 92,000 residents.
Here's a chart from his article.

I'm definitely not surprised to see New York, San Francisco, and Chicago on the list. After all those cities have crummy governments.
The other two cities, by contrast, just have the misfortune of being in a poorly governed state.
Jon explains a big reason why this domestic migration is taking place.
…the reasons people choose to migrate tend to be complex and varied… However, we can see the US flight from its largest metropolitan is part of a bigger trend. North American Van Lines (NAVL), a trucking company based in Indiana, puts out an annual report that tracks migration patterns in the United States. The states with the most inbound migration in 2021 were South Carolina, Idaho, Tennessee, North Carolina, and Florida. The leading outbound states were Illinois, California, New Jersey, Michigan, and New York. The pattern here is clear. Americans are fleeing highly-regulated, highly taxed states. They are flocking to freer states. …We heard a great deal about "the Great Reset" during the pandemic. …It may be that "the reset" involves Americans abandoning high-tax, high-regulatory cities and states for freer ones.
To be sure, there are factors other than taxation. And there are factors other than government policy (people really like California's wonderful climate, for instance, but they will escape when policy becomes unbearable).
The bottom line is that people are slowly but surely voting with their feet against statism. They are choosing red states over blue states. There's a lesson for Joe Biden, though he's probably not listening.