My main objection to government employees is that they work for bureaucracies that should not exist (especially the ones in Washington).
That being said, I also don't like how bureaucrats are overpaid compared to workers in the productive sector of the economy.
How much are they overpaid? The Committee to Unleash Prosperity has a daily newsletter, and here's a chart from yesterday's edition that compares compensation levels for private-sector employees and state and local bureaucrats.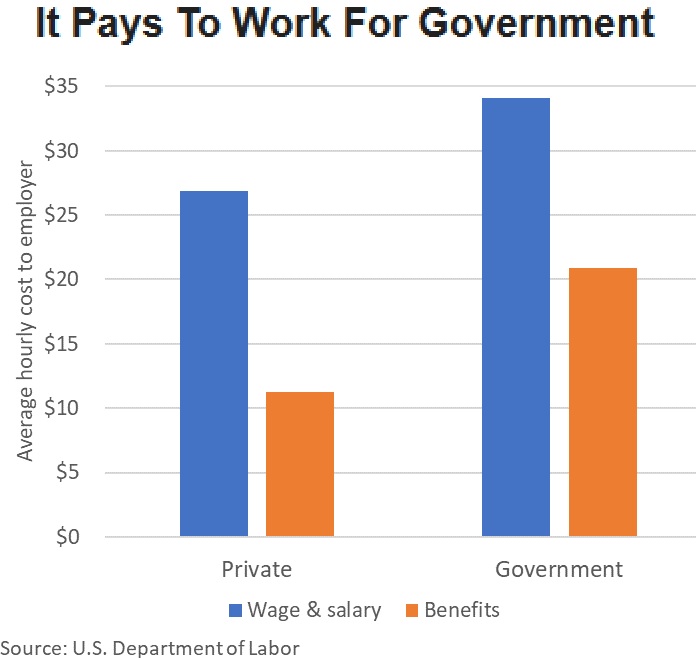 Just in case you are wondering whether these numbers are accurate, you can go this website from the Bureau of Labor Statistics, scroll down to the "Pay and Benefits" section, and then click on "Data Finder" for "Employer Costs for Employee Compensation."
You will then find that average hourly costs (including benefits) for state and local government workers are about $55, compared to about $38 for workers in the economy's productive sector.
Government employee unions and other defenders of the status quo often will argue that such numbers are comparing apples and oranges because bureaucrats tend to be older and working in fields that require greater skills.
Those are legitimate arguments (indeed, similar to the arguments that debunk the idea of a gender pay gap).
But a legitimate argument is not the same as a compelling argument. The Department of Labor's data on voluntary quit rates definitely suggests that bureaucrats (both federal and state/local) have a big compensation advantage over workers in the private sector.
If you want a concrete example of how government workers receive windfalls, Adam Andrzejewski opined last year about lifeguards in Southern California. Here's some of what he wrote for the Wall Street Journal.
Being a lifeguard isn't easy, but in Los Angeles it can be lucrative. Auditors at OpenTheBooks.com found 82 county lifeguards earning at least $200,000 including benefits and seven making between $300,000 and $392,000. Thirty-one lifeguards made between $50,000 and $131,000 in overtime alone. After 30 years of service, they can retire as young as 55 on 79% of their pay. The Los Angeles County Lifeguard Association makes all this possible. …By comparison, the top-paid public lifeguard in Florida made $118,000, including benefits—though the pay goes further in the Sunshine State, which has no income tax. Even in New York City, the top-paid lifeguard made only $168,000. Think of the Los Angeles Country Lifeguard Association as the teachers union of "Baywatch."
Sounds like they all belong in the Bureaucrat Hall of Fame.
P.S. Click here to learn why state and local governments sign contracts providing absurd levels of pay and benefits.
P.P.S. Workers in the private sector work more hours, so annual pay gaps are not as large as hourly pay gaps.
P.P.P.S. Putting lifeguards to shame, one state employee in California raked in more than $800,000 in one year.
P.P.P.P.S. Adding insult to injury, the lavish retirement benefits of state and local bureaucrats often are dramatically underfunded.