Two years ago, I rhetorically asked whether the movement for gun control was dead.
But, given how states have been expanding civil liberties for gun owners, perhaps I should have asked about the vitality of the movement for gun rights.
For instance, check out this map of states that no longer require a permit for concealed carry.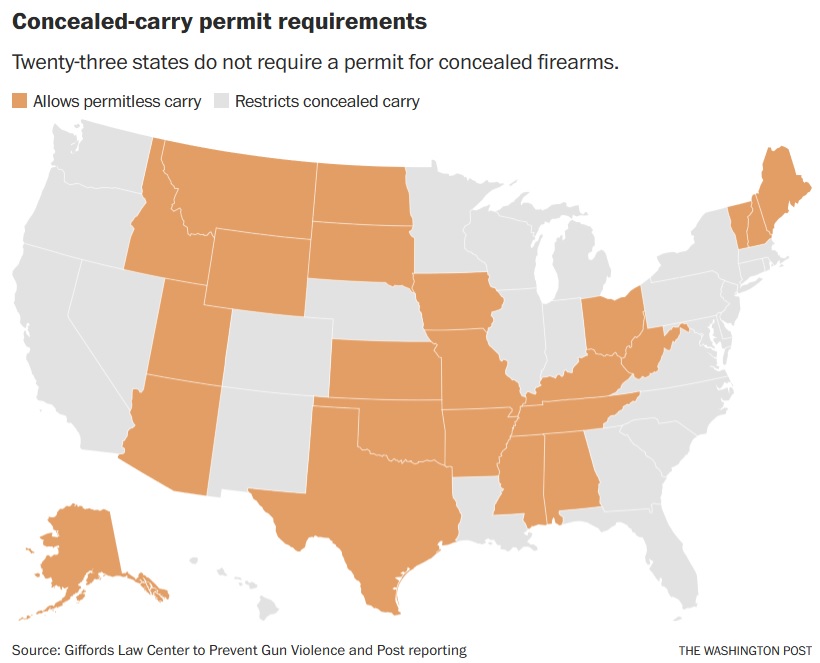 The map is taken from a report in the Washington Post by Kim Bellware.
Here are some excerpts from this feel-good story.
On Monday, Ohio became the 23rd state to enact a law eliminating permits as a requirement for concealed carry. The Buckeye State closely followed Alabama, where Gov. Kay Ivey signed a similar law on March 10. The back-to-back wins for gun-rights advocates who want to see fewer restrictions on the Second Amendment signal how partisan divides and relentless activism at the state level are significantly reshaping the landscape around gun possession. …Seventeen of the 23 states that allow permitless carry passed their laws in the past seven years. By contrast, concealed carry wasn't even legal in every state until 2013, when Illinois lifted its longtime ban decades after most other states. …experts expect more laws easing gun restrictions to pass. Already, bills to allow permitless carry are active in Indiana and Florida.
Proponents of permitless carry make very sensible arguments.
…the grass-roots Buckeye Firearms Association. Executive Director Dean Rieck…argued that licensing laws end up stopping only law-abiding citizens from fully exercising their Second Amendment rights, since lawbreakers won't submit to restrictions whether they exist or not. …Jake Pelletier, who owns Raven Firearms Training in New Hampshire with his wife, Crystal, offered a comparison…in states that make training a hard-and-fast requirement of concealed carry: "I've heard it put that it's like saying you can exercise your right to free speech as long as you take a communications course.'"
By contrast, the reporter apparently couldn't find anybody with a compelling argument from the pro-gun control side.
Why do I say that? Because this is the only "evidence" from the left cited in the story.
Researchers have sparred for years over the question of whether easing gun restrictions lessens crime or fuels it. A 2021 analysis by The Washington Post's Fact Checker found states with looser concealed-carry laws had a higher homicide rate on average during a recent five-year period than the eight states with stricter permit laws.
This type of analysis is nonsensical.
Honest experts don't simply look at murder rates in two different groups of states. After all, it is quite possible that certain states decided to approve permitless carry because citizens were worried about high murder rates.
Social scientists with integrity would use a different approach.
For instance, they might look at states that made changes (either pro-gun control or pro-gun rights) and then compare murder rates in the years before and after (while also considering whether other factors might play a role).
Though I give the reporter credit. She cited the research, but at least she also acknowledges that it does not prove anything.
…the role looser laws played in higher crime rates — if any — was unclear.
Let's close by reverting to the main issue for today, which is celebrating the fact that 2nd Amendment freedoms are expanding in the United States.
This is, in part, a victory for common sense.
But I also think that more of our friends on the left are waking up on this issue.
P.S. For those who want to enjoy gun control-themed humor, click here.