Remember back when Joe Biden said paying more tax is patriotic?
He was being a hypocrite, of course, since he aggressively sought to lower his own tax burden.

But he was also behaving exactly as "public choice" theory predicts.
Politicians naturally want more of our money, and they'll use any excuse to justify reaching into our pockets.
Some journalists have embraced this viewpoint, waving the flag of taxes-über-alles with gusto and enthusiasm.
Here are some excerpts from Catherine Rampell's recent column in the Washington Post.
There are some types of income, however, for which little or no third-party reporting exists. These income categories — including partnership, proprietorship and rental income — accrue disproportionately to high earners. The government has much less ability to tell when these filers are misreporting; as a result, they can more easily get away with cheating. …Tax cheating is not a victimless crime. …everyone else must pay more to fill the shortfall. One solution is to have the IRS conduct more audits. …tax enforcement has plummeted as the IRS has been starved of resources. …More reporting would also deter would-be tax cheats… This solution is exactly what Democrats have proposed as part of their big budget bill. …banks would — once a year — also report the sums of all deposits and withdrawals for certain accounts. …The GOP seeks to exploit the confusion of honest, rank-and-file taxpayers.
And, a few days ago, Binyamin Appelbaum of the New York Times wrote that it was "rotten" to oppose higher taxes.
Resistance to taxation is the rotten core of the modern Republican Party. Republicans in recent decades have sharply reduced the federal income tax rates imposed on wealthy people and big companies, but their opposition to taxation goes beyond that. They are aiding and abetting tax evasion. Republicans have hacked away at funding for the Internal Revenue Service over the past decade, enfeebling the agency. …they valorize Americans who find ways to pay less, a normalization of antisocial behavior that may be even more damaging… The Republican Party was reborn in the 1970s under the banner of resistance to taxation, led by anti-tax men like Jack Kemp and Ronald Reagan. …Republicans like to talk about liberty, by which they mean a narrow and negative kind of freedom from civic duty and mutual obligation. …the rise of anti-tax activism was inextricably intertwined with the decline of a white electoral majority. …Progressive taxation is…a small price to pay for prosperity. …We create and maintain our society through our contributions.
Both of these columns are filled with factual mistakes, most notably the discredited claim that the IRS is being starved of money (it's budget, adjusted for inflation, has doubled since the early 1980s).
They also seem willing to accept the self-serving numbers from the IRS, whereas the world's top academic experts estimate the United States is near the top for tax compliance.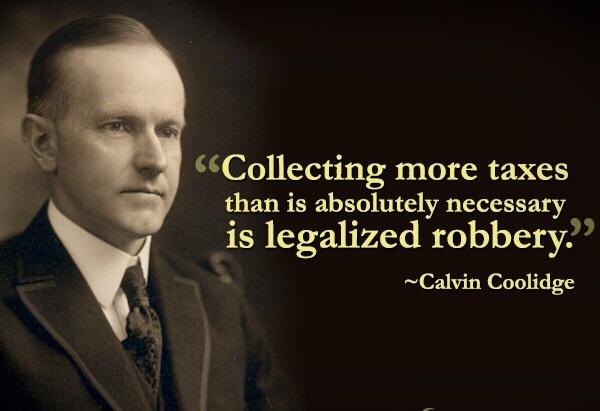 With this in mind, Biden's aggressive proposal for automatic snooping on bank accounts is like using a sledgehammer to kill a fly.
And it's also worth noting that neither Rampell nor Appelbaum address the topic of IRS leaks and bureaucratic corruption. Shouldn't those problems be fixed before giving the IRS more power, more money, and more of our private data?
I'll close by wondering whether either Rampell or Appelbaum have voluntarily paid extra tax to demonstrate their own "patriotism"?
Or, if that's asking for too much flag waving, maybe they can tell us whether they take advantage of rules (everything from IRAs and 401(k)s to itemized deductions) that allow households to protect some of their income from government.
For what it's worth, I suspect that they are both hypocrites, just like other folks on the left (John Kerry, Hillary Clinton, Gov. Pritzker, Tim Geithner, etc) who embrace higher taxes for you and me while making sure they pay as little as possible.