Biden's tax agenda – especially the proposed increase in the corporate rate – would be very bad for American competitiveness.
We know this is true because the Administration wants to violate the sovereignty of other nations with a scheme that would require all nations to impose a minimum corporate tax rate of 15 percent.
Indeed, the White House openly says it wants to export bad policy to other nations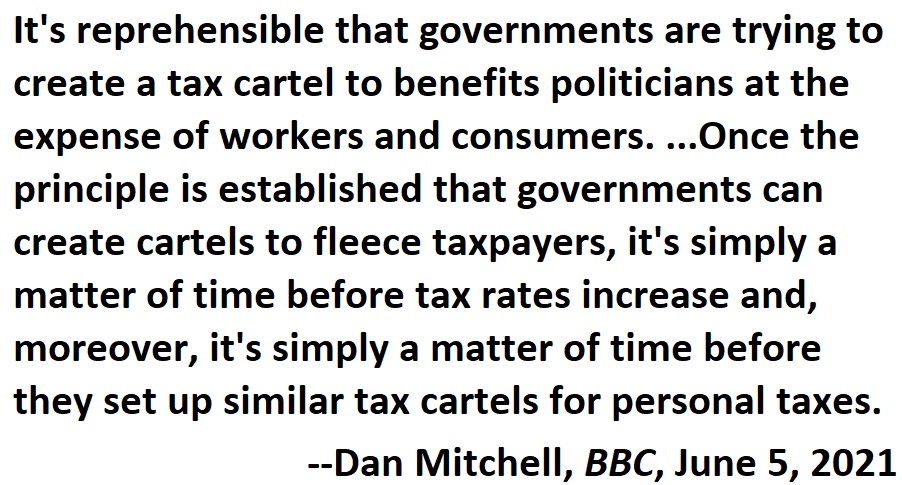 "so that foreign corporations aren't advantaged and foreign countries can't try to get a competitive edge."
Other big nations (the infamous G-7) just announced they want to participate in the proposed tax cartel.
I was just interviewed on this topic by the BBC World Service and I've extracted my most important quotes.
But I encourage you to listen to the full discussion, which starts with (predictably awful) comments from the French Finance Minister, followed by a couple of minutes of my sage observations.
For what it's worth, "reprehensible" doesn't begin to capture my disdain for what the politicians are trying to achieve.
What's particularly irritating is that politicians want us to think that companies are engaging in rogue tax avoidance. Yet, as I noted in the interview, national governments already have the ability to reject overly aggressive forms of tax planning by multinational firms.
Here's some of what was reported about the proposed cartel by the Associated Press.
The Group of Seven wealthy democracies agreed Saturday to support a global minimum corporate tax of at least 15%… U.S. Treasury Secretary Janet Yellen said the agreement "provides tremendous momentum" for reaching a global deal that "would end the race-to-the-bottom in corporate taxation…" The endorsement from the G-7 could help build momentum for a deal in wider talks among more than 135 countries being held in Paris as well as a Group of 20 finance ministers meeting in Venice in July. …The Group of 7 is an informal forum among Canada, France, Germany, Italy, Japan, the UK and the United States. European Union representatives also attend. Its decisions are not legally binding, but leaders can use the forum to exert political influence.
As you just read, the battle is not lost. Hopefully, the jurisdictions with good corporate tax policy (Ireland, Bermuda, Hong Kong, Cayman Islands, Switzerland, etc) will resist pressure and thus cripple Biden's cartel.
I'll close by emphasizing that the world needs tax competition as a necessary check on the greed of politicians.
Without any sort of constraint, elected officials will over-tax and over-spend.
Which is why they're trying to impose a tax cartel. They don't want any limits on their ability to buy votes with other people's money.
And we can see from Greece what then happens.
P.S. The Trump Administration also was awful on the issue of tax competition.
P.P.S. Here's my most-recent column about the so-called "race to the bottom."
P.P.P.S. As noted in the interview, both the IMF and OECD have research showing the destructive impact of higher corporate tax burdens.