As a libertarian, I don't care if couples have zero children or 10 children.
But as an economist, I'm horrified that big changes in demographics are going to lead to fiscal crises thanks to poorly designed entitlement programs.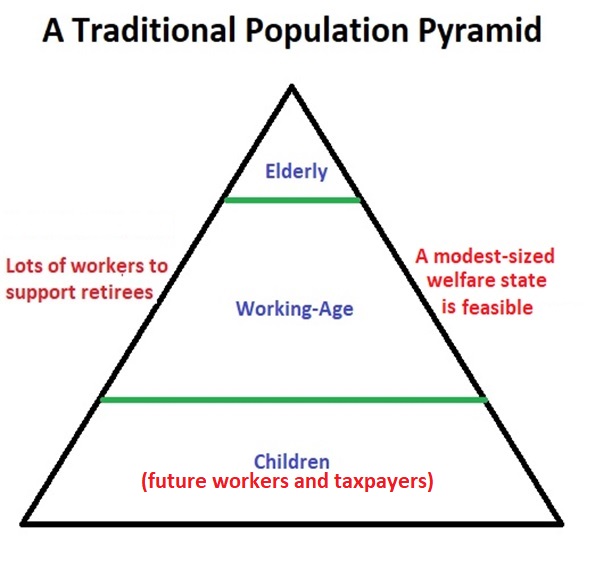 Simply stated, modest-sized welfare states are sustainable if more and more new taxpayers enter the system to finance benefits for a burgeoning population of old people.
But that's not happening any more. In most nations, traditional population pyramids are becoming population cylinders because of falling birthrates and increasing longevity.
That's the bad news.
The good news is that there is growing awareness the demographic changes are happening. Indeed, Damien Cave, Emma Bubola and Choe Sang-Hun have a big article on population decline in the New York Times.
All over the world, countries are confronting population stagnation and a fertility bust, a dizzying reversal unmatched in recorded history that will make first-birthday parties a rarer sight than funerals, and empty homes a common eyesore. Maternity wards are already shutting down in Italy. Ghost cities are appearing in northeastern China. Universities in South Korea can't find enough students, and in Germany, hundreds of thousands of properties have been razed, with the land turned into parks. …Demographers now predict that by the latter half of the century or possibly earlier, the global population will enter a sustained decline for the first time. …The strain of longer lives and low fertility, leading to fewer workers and more retirees, threatens to upend how societies are organized — around the notion that a surplus of young people will drive economies and help pay for the old. …The change may take decades, but once it starts, decline (just like growth) spirals exponentially. With fewer births, fewer girls grow up to have children, and if they have smaller families than their parents did — which is happening in dozens of countries — the drop starts to look like a rock thrown off a cliff. …according to projections by an international team of scientists published last year in The Lancet, 183 countries and territories — out of 195 — will have fertility rates below replacement level by 2100.
Plenty of interesting data, though remarkably little focus on the fiscal implications. Sort of like writing about 1943 France with almost no reference to World War II.
In any event, the article takes a closer look at the challenges in certain nations., including South Korea.
To goose the birthrate, the government has handed out baby bonuses. It increased child allowances and medical subsidies for fertility treatments and pregnancy. Health officials have showered newborns with gifts of beef, baby clothes and toys. The government is also building kindergartens and day care centers by the hundreds. In Seoul, every bus and subway car has pink seats reserved for pregnant women. But this month, Deputy Prime Minister Hong Nam-ki admitted that the government — which has spent more than $178 billion over the past 15 years encouraging women to have more babies — was not making enough progress.
I was struck by the statement from the Deputy Prime Minister that his nation "was not making enough progress"?
That's a strange way of describing catastrophic decline in birthrates, as noted in the article.
South Korea's fertility rate dropped to a record low of 0.92 in 2019 — less than one child per woman, the lowest rate in the developed world. Every month for the past 59 months, the total number of babies born in the country has dropped to a record depth.
Maybe, just maybe, government handouts are not the way to boost birthrates.
I'll conclude by noting that the real problem is tax-and-transfer entitlement programs, not low birth rates.
Both Singapore and Hong Kong have extremely low birth rates, for instance, but they aren't facing a huge fiscal crisis because they have very small welfare states and workers are obliged to save for their own retirement.
Other Asian jurisdictions, however, made the mistake of copying Western nations, meaning entitlement programs that become mathematically impossible when populations pyramids become population cylinders (or even upside-down pyramids!).
In addition to South Korea, Japan also faces a major challenge.
And the situation is very grim in Europe, even though birth rates haven't fallen to the same degree (though the numbers is some Eastern European nations are staggeringly bad).
P.S. The United States isn't far behind.
P.P.S. We know the answer to this crisis, but far too many politicians are focused on trying to make matters worse rather than better.
P.P.P.S. You can read my two-part series on this topic here and here.