Over the years, I've shared many amusing memes and cartoons about minimum wage laws.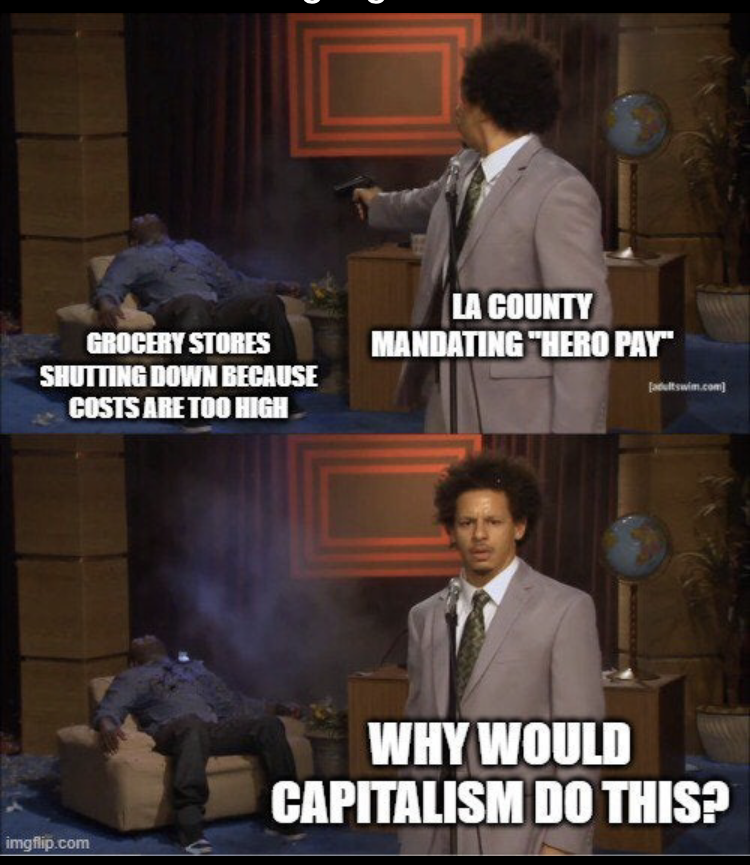 But this one, based on a skit from The Eric Andre Show, may be the best of all.
Not because it's making a different point than the others, but because what has just happened in Southern California.
Local politicians in a couple of cities recently mandated higher wages (labeled "hero pay") for workers in grocery stores.
The immediate consequences of that legislation provide a clear-cut example of why it is so foolish for politicians to mandate levels of pay that make it unprofitable to operate a business.
Let's look at a couple of news reports.
We'll start with a story from the local CBS affiliate in Los Angeles. Here are some excerpts.
Kroger is closing three more of its stores in Los Angeles after the city passed a "hero pay" ordinance mandating a $5 pay bump for grocery and pharmacy workers. …"It's never our desire to close a store, but when you factor in the increased costs of…an extra pay mandate that will cost nearly $20 million over the next 120 days, it becomes impossible to operate these three stores," Kroger said in a statement.
The same thing is happening in nearby Long Beach.
Ralphs and Food 4 Less recently announced that they will be closing two…stores in Long Beach after Mayor Robert Garcia approved a city ordinance that would impose a $4 "hero pay" salary boost… "As a result of the City of Long Beach's decision to pass an ordinance mandating Extra Pay for grocery workers, we have made the difficult decision to permanently close long-struggling store locations in Long Beach," said a company spokesperson. …The permanent closures will happen on April 17 for long-struggling locations and will impact nearly 200 employees between the two locations.
What happened in Los Angeles and Long Beach is obviously a lesson in economics.
But it's also a lesson in politics.
I'm guessing that most of the local politicians knew that they would be throwing many people into the unemployment line when they mandated "hero pay," but they simply didn't care.
What mattered to them is that they got headlines for "caring" when they enacted the legislation. They don't care about the unintended (but very predictable) consequences.
Which is yet another reason we should have a very low opinion of politicians.
P.S. If you want more memes and cartoons about the minimum wage, click here, here, here, here, and here.