As a former Connecticut resident, I'm ashamed that my home state, which used to be a success story with no income tax, has now morphed into a high-tax welfare state that is now increasingly infamous for the outflow of productive people and taxable income.
And even though I left several decades ago, I also feel vaguely guilty that my former state produces politicians such as Senator Chris Murphy.
Most people have never heard of him since he's never accomplished anything in Washington. Though I would argue that's a good thing since he's a knee-jerk statist.
But I gather that Senator Murphy no longer wants to be in the shadows. Here's a tweet he issued yesterday that has received a lot of publicity.
Wow, this is an astounding display of statolatry. The kind of statement one might expect from a functionary from a totalitarian regime.
Or maybe a line from George Orwell's 1984. Just think of the implications:
Are you afraid of spiders? Hey, government can help!
Are there dandelions in your yard? Don't worry, Big Brother to the rescue!
Did McDonald's forget to include a toy in your Happy Meal? Time for political action!
While his views are reprehensible, I'm actually glad Senator Murphy inadvertently revealed his statism.
If nothing else, it's produced some clever humor. The folks at Twitchy have been sharing this tweet, which came from a parody account for a North Korean news service.
By the way, if you're like me and are not familiar with "Juche," it's apparently a North Korean twist on Marxism.
In other words, take the traditional horror of communism and then add a layer of autarky to ensure even greater misery.
And here's another amusing take, juxtaposing Murphy's statolatry with Reagan's wisdom (see last video from this collection). And they even demoted him to Representative rather than Senator.
But we shouldn't merely mock Murphy.
His views truly are reprehensible because they imply there is no element of human existence that is independent of government. The state is everything.
And if that sounds familiar, it's probably because you know something about economics, philosophy, and history. The most evil people in world history have expressed the same sentiment.
Such as the leader of Germany's National Socialist Workers Party.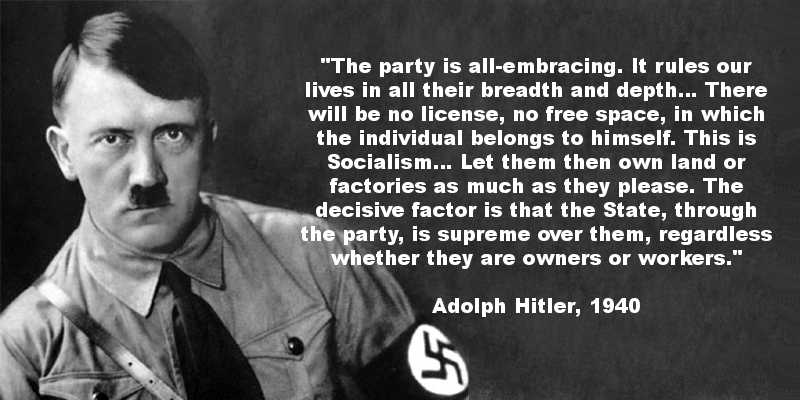 And the first dictator of the Soviet Union.
Though if I had to pick the quote that is closest to Murphy's, it would be this awful statement from Mussolini.

Senator Murphy obviously doesn't share the horrid ideology of either national socialism or international socialism, so his version of statolatry is far more benign.
Sort of like this cartoon instead of gulags and concentration camps.
But I still think his views are reprehensible. We're not children and the government is not our parents. America's Founding Fathers strictly limited the powers of the federal government because they understood the risks of a coercive state dictating our lives. Even if it's benign statism rather than totalitarian statism.