When writing about the Organization for Economic Cooperation and Development, an international bureaucracy based in Paris, my life would be simpler if I created some sort of automatic fill-in-the-blanks system.
Something like this.
The OECD, subsidized by $____ million from American taxpayers, has just produced a new _________ that advocates more power for governments over the _________ sector of the economy.
But this may not be sufficiently descriptive.
So maybe I should create a multiple choice exercise. Sort of like when students take tests and get asked to circle the most appropriate answer.
The bureaucrats at the Paris-based OECD, working in cooperation with union bosses/class-warfare advocates/other tax-free international bureaucrats/politicians, have released a new report/study/paper urging more power/control/authority for governments in order to increase regulation/taxes/spending/redistribution/intervention.
You may think I'm trying to be funny, but this is totally serious.
How else would you describe a bureaucracy that consorts and cooperates with leftist groups like Occupy Wall Street and the AFL-CIO and routinely published propaganda in favor of Obama's agenda on issues such as global warming, government-run healthcare, so-called stimulus, and class-warfare taxation.
And never forget that American taxpayers finance the biggest chunk of this bureaucracy's budget.
Adding insult to injury, the bureaucrats at the OECD get tax-free salaries, which makes their relentless support for higher taxes on the rest of us even more obnoxious.
Now we have some new examples of the OECD's statist mischief.
Here's some of what the Center for Freedom and Prosperity recently uncovered.
At its sixth annual conference, the George Soros-founded Institute for New Economic Thinking will feature prominent left-wing economists Thomas Piketty, Joseph Stiglitz, and self-described Marxist and Greek Finance Minister, Yanis Varoufakis. By itself that wouldn't be remarkable, but the meeting will come with the implicit endorsement of the U.S. taxpayer thanks to the sponsorship of the Organization for Economic Cooperation and Development (OECD), which gets over 20 percent of its funding from the United States.
So why is the OECD subsidizing a left-wing gabfest and giving publicity to way-out-of-the-mainstream characters like Piketty?
Part of the answer, one suspects, is that the bureaucracy has a bloated budget.
But the bigger reason is presumably that the bureaucrats want to push a statist ideological agenda.
…tax collectors have hijacked the OECD… Over the last decade and a half, they have threatened and cajoled low-tax jurisdictions into counter-productive reforms that make their economies less attractive to those suffering under the excessive taxes required to fund European welfare states. …They have essentially turned the OECD into a global tax cartel, or an OPEC for politicians.
None of this is a surprise because it's part of a bigger pattern.
The OECD gets its money from governments. Most of those governments are European welfare states. The bureaucrats at the OECD get very generous tax-free salaries.
So of course they're going to pump out whatever propaganda is needed to please their political (and pay) masters.
Here are some other recent examples, both of which were disseminated by the OECD's Washington Center, which mostly exists to make sure that Congress and the White House maintain the gravy train of handouts to Paris.
Our first example of economic malpractice is this nonsense about a so-called gender wage gap. Note that the OECD is forced to admit the numbers are "unadjusted."
That's because lots of research shows that the wage gap disappears once you adjust for factors such as hours worked, types of professions, and work history.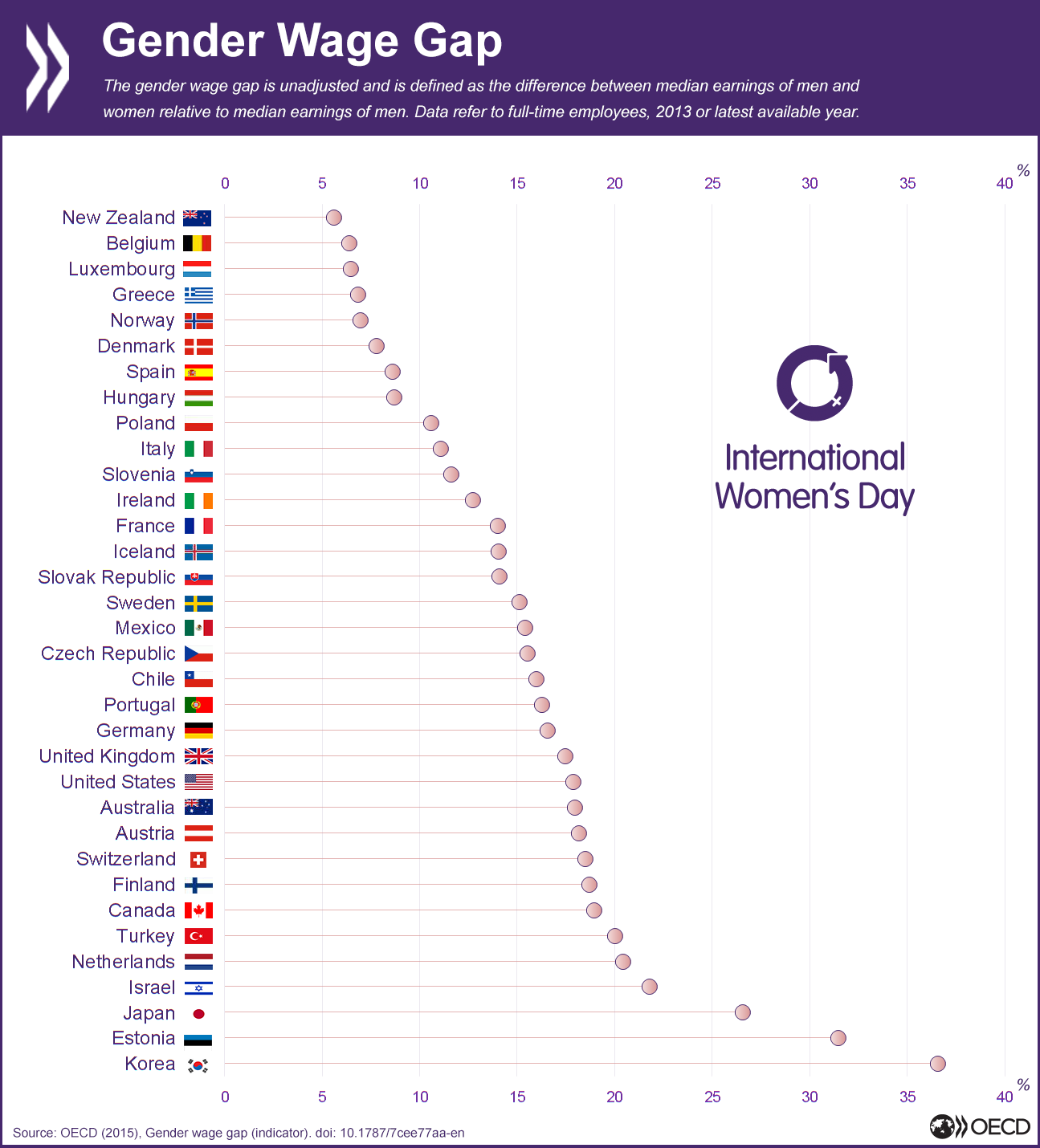 By the way, just in case you think I'm only citing pro-market sources, it's very much worth noting that even one of President Obama's economic advisers confessed that the left's gender-gap numbers are bogus.
Now let's look at another chart.
I've previously explained that what matters most for the poor is economic growth.
Yet statists prefer to focus on the rich-v-poor gap because they want to mislead folks into thinking the economy is a fixed pie (as depicted here) and the income of the rich is at the expense of the poor.
And that's the purpose of this OECD chart.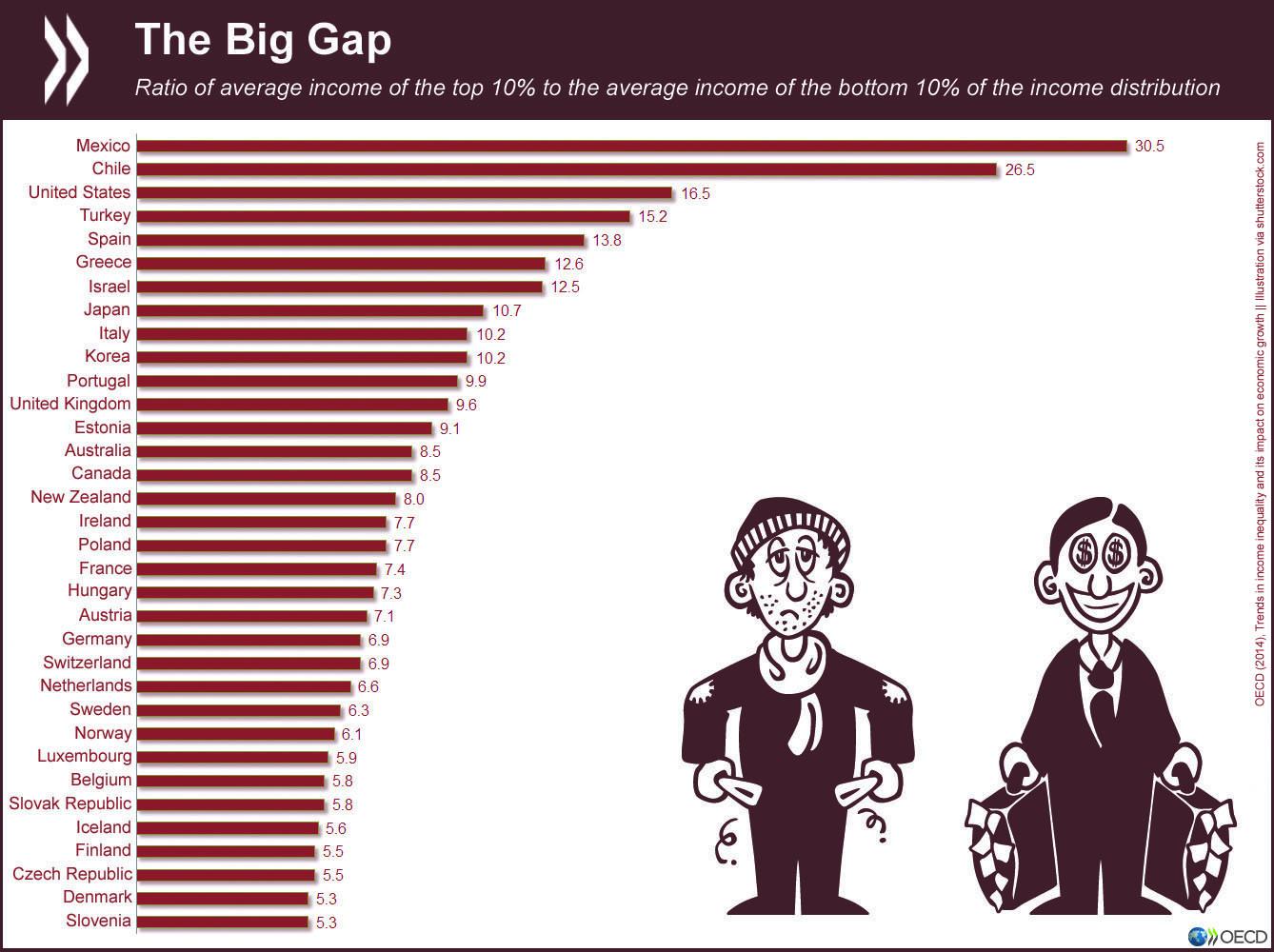 This very much reminds me of the OECD's laughably dishonest research on poverty, which purports to show that there is more poverty in the United States than there is in economically distressed nations such as Greece, Turkey, Hungary, and Portugal.
As you can see from this video, statism is now the OECD's chief product.
Which is why Republicans in Congress, if they actually on the side of taxpayers, should defund this destructive bureaucracy.