I'm a firm believer in climate change. Heck, there have been several ice ages and warming periods, so it's obvious that temperatures shift over time.
And while I'm not particularly qualified to assess such matters, I'm also willing to believe that human activity has an effect on climate.
Moreover, even though I much prefer warm weather, I'm also open to the idea that global warming might be a bad thing that requires some action.
But here's the catch. I don't trust radical environmentalists. Simply stated, too many of these people are nuts.
Then there's the super-nutty category.
But you know what's even worse than a nutty environmentalist?
What terrifies me far more are the very serious, very connected, and very powerful non-nutty environmentalists who hold positions of real power. These folks are filled with arrogance and hubris and they have immense power to cause damage.
If you think I'm exaggerating, here's some of what was contained in a release from the United Nations Regional Information Centre for Western Europe.
By the way, remember that these excerpts are not the unhinged speculation of some crazy conservative or libertarian. These are actually the words – and stated intentions – of the U.N. bureaucracy. They want central planning on steroids.
Christiana Figueres, the Executive Secretary of UNFCCC,  warns that the fight against climate change is a process and that the necessary transformation of the world economy will not be decided at one conference or in one agreement. …"This is the first time in the history of mankind that we are setting ourselves the task of intentionally, within a defined period of time to change the economic development model that has been reigning for at least 150 years, since the industrial revolution. That will not happen overnight and it will not happen at a single conference on climate change, be it COP 15, 21, 40 – you choose the number. It just does not occur like that. It is a process, because of the depth of the transformation."
Wow. These people want to "intentionally…change the economic development model" that has produced unimagined prosperity.
And they want to replace it with central planning by people who have never demonstrated any ability to generate wealth.
I'm not joking. If you look at Ms. Figueres' Wikipedia page, you'll see that she has even less experience in the private sector than President Obama.
Yup, just exactly the kind of pampered (and tax-free) global bureaucrat who should have the power to treat the global economy as some sort of Lego set.
Thomas Sowell has made the very important observation that there's a giant difference between intelligence and wisdom and Ms. Figueres is a perfect example.
To give you an idea of her cloistered and narrow mindset, she was quoted by Bloomberg as expressing admiration for China's totalitarian regime over America's democratic system merely because it ostensibly produces the policies she prefers.
China, the top emitter of greenhouse gases, is also the country that's "doing it right" when it comes to addressing global warming, the United Nations' chief climate official said. …China is also able to implement policies because its political system avoids some of the legislative hurdles seen in countries including the U.S., Figueres said. …The political divide in the U.S. Congress has slowed efforts to pass climate legislation and is "very detrimental" to the fight against global warming, she said.
And the icing on the cake, needless to say, is that China's environment is a catastrophe compared to the much cleaner air and water that exist in the United States!
Though you won't be surprised to learn that Ms. Figueres is a great admirer of President Obama, even if he does represent a backwards democracy.
The climate chief even held up President Obama as a shining example of steps countries can take to tackle global warming.
Reminds me of a saying about birds of a feather, though I'm not sure how a bird with two left wings can get off the ground.
And don't even get me started on all the exaggeration and hyperbole that is generated by the radical environmentalists. Though this Jim McKee cartoon is too good not to share.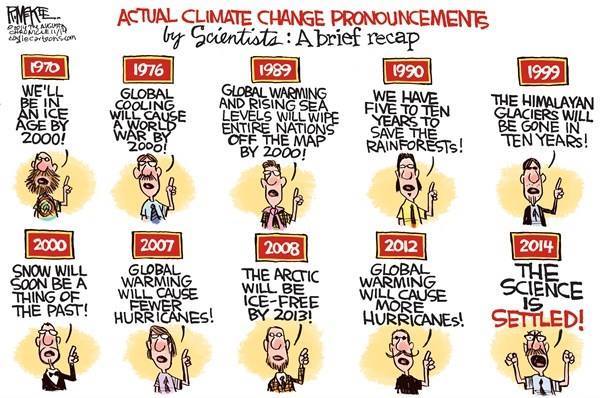 P.S. Environmentalists are also grotesque hypocrites, as you can see here and here.
P.P.S. But to close on an upbeat note, we have some decent environmental humor here, here, here, and here.