I periodically try to explain that there's a big difference between being pro-market and pro-business.
Simply stated, policy makers shouldn't try to penalize businesses with taxes, mandates, and regulations.
But neither should politicians seek to subsidize businesses.
That's why I'm against bailouts, subsidies, and other distortions that provide special favors for politically connected companies.
I have nothing against companies earning money, to be sure, but I want them to earn their profits in the marketplace rather than lining their pockets by using the coercive power of government to rig the rules of the game.
But I don't just have disdain for companies that stick their snouts in the public trough. I also have little regard for the politicians that enable this sordid type of business by trading campaign cash for corporate welfare.
I realize that's a strong assertion, but I can't think of any legitimate reason to support handouts for big companies. And I get especially angry when giveaways are facilitated by politicians who claim to support free markets.
Let's look at two examples, the Export-Import Bank and the Obamacare bailout for big insurance corporations.
I've previously argued that the Export-Import Bank is a squalid example of corruption and I've shared a video that explains why it's economically foolish to subsidize a handful of big exporters.
To augment those arguments, here's some of what Professor Jeffrey Dorfman of the University Georgia recently wrote in a column for Real Clear Markets. He correctly warns that certain GOP politicians are to blame if the Export-Import Bank stays alive.
The Export-Import Bank is everything that Republicans should stand against. It is crony capitalism at its worst. It is corporate welfare, taxing American families to boost corporate profits. It ever forces firms to potentially subsidize a competitor. There is simply no need for this government agency. Republicans in Congress should make a stand and show voters that Republicans believe in free markets and small government, even if some big businesses complain. The Ex-Im Bank should not be reauthorized. …Over the last decade or so, the Democrats have increasingly become the party of big business, stealing that crown away from Republicans because of the Democrats' willingness to engage in crony capitalism and actively pick winners and losers in our economy. While Republicans are still thought of as the pro-business party, and other actions by the Democrats are clearly anti-business (Obamacare, environmental over-regulation), large multinational corporations like Boeing and GE have donated money to Democrats and generally profited from their political alliances with them. If Republicans want to make gains among (lower) middle-class voters, one of the things that could help is to convince voters that they are on the side of the people and not big corporations. The Ex-Im Bank reauthorization is a perfect opportunity to do just that. …Income redistribution is wrong especially when the money is going to big and profitable companies.
Ryan Ellis of Americans for Tax Reform agrees. Writing for Forbes, he looks at both the policy and politics of Export-Import Bank handouts.
The ExIm bank is an export subsidy program, giving money to certain companies…in the hopes that gives them a leg up in international trade.  It's been criticized for decades by free traders and those who simply oppose corporate welfare spending out of Washington. …the ExIm bank will sunset on its own on September 30th.  All Congress has to do is let nature take its course, and this corporate welfare program simply goes away forever.
Sounds like we should have a guaranteed victory from free markets over intervention, right?
Don't count your chickens before they hatch.  Ryan explains that Republicans may shoot themselves in the foot by trying to rescue this reprehensible example of cronyism.
Charging in at the last minute to save ExIm only makes the House GOP look beholden to K Street.  It also looks like they are flip-flopping from where they were back in the summer.  …ExIm reauthorization…is likely to take a GOP grassroots focused on President Obama's failures and full of midterm election intensity, and turn them inward toward criticism of the House GOP leadership instead. If things go badly with this CR gambit, the House GOP will have given themselves a self inflicted wound just as they are trying to get out of town and not screw up what should be a good year for their candidates.
How nauseating.
I realize that the Export-Import Bank is a relatively minor issue and that I should mostly care about whether politicians do the right think on big topics such as entitlement reform. After all, that's what really counts if we want to avoid fiscal catastrophe.
But I can't stop myself from foaming at the mouth when self-proclaimed supporters of free markets undermine the argument for economic liberty with cronyist deals.
Obamacare is another example of big business being against free markets. We already know that the big pharmaceutical firms cut a special deal with the Obama White House.
The big insurance companies also had their snouts in the trough. Not only did they get legislation that mandated the purchase of their products, but they also got language that provides bailouts if they aren't able to profit from Obamacare.
What's really amazing, though, is that some Republicans are willing to go along with Obamacare bailouts for those major companies.
The good news is that Florida Senator Marco Rubio is in the right side. Here's some of what he wrote about bailouts for health insurance companies for Fox News.
 …section 1342 of the ObamaCare law…established so-called "risk corridors". According to this provision, taxpayers will make up the difference for health insurance companies whose plans lose money under ObamaCare. Last November, as it became clearer what this section of the law actually meant, I introduced legislation repealing it and protecting taxpayers from being forced to cover insurers' ObamaCare losses. …In recent weeks, the public has learned that senior White House officials have been working closely with insurers behind the scenes to make sure that their earlier bailout deal, which helped assure ObamaCare's passage in 2010, would stand and that a taxpayer-funded bailout was still, in fact, on the table. …On this ObamaCare bailout, as with so many issues, Washington politicians are misleading average Americans and planning to stick them with the bill. This is government favoritism and corporate cronyism at its worst. …It's time to repeal and replace it, but at the very least, we should make it the law of the land that health insurers won't be bailed out by taxpayers.
I'll also add a moral argument.
As far as I'm concerned, I want the health insurance companies to suffer major losses.
I want the business community to see that it's a mistake to get in bed with big government.
Though I guess I'm actually making a practical argument. I may be motivated by morality, but the companies hopefully will do a cost-benefit analysis and decide that it's too risky to strike deals with the political class.
By the way, Republicans often do the wrong thing because they're afraid that voters favor the statist agenda of dependency.
But that's not the case for Obamacare bailouts for health insurances companies. Here's some polling data on the issue that showed up on my Twitter feed.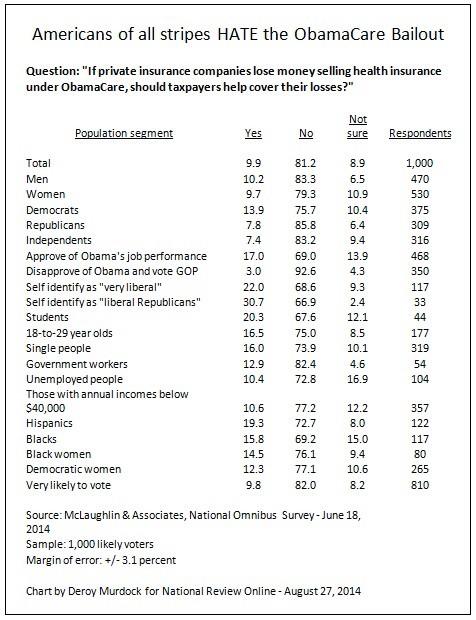 Let's close by sharing some of what the editors at National Review wrote about both the Obamacare bailout and Export-Import Bank subsidies.
Congressional Republicans keep saying they oppose Obamacare. Yet they're refusing to take the simplest and easiest action against it. …Some Republicans say that the insurance companies should not be penalized for the defects of the law. Why not? They have freely chosen to participate in the exchanges, and they should bear the risks of that decision — which include the risk that Congress might decide not to shovel tax dollars at them. The alternative, after all, is to punish taxpayers. …The debate over the Export-Import Bank is one test of Republican sincerity about ending corporate welfare. These taxpayer subsidies are another: If Republicans can't take on corporate welfare when doing so advances one of their party's most popular and basic commitments, when will they?
Amen. Both of these issues are tests for the GOP.
Actually, they should get added to a long list of issues that tell us whether Republicans have any sincerity (or brains) in the fight against statism.
o No tax increases, since more money for Washington will encourage a bigger burden of government and undermine prosperity.
o To stop bailouts for Europe's decrepit welfare states, no more money for the International Monetary Fund.
o Reform the biased number-crunching methodology at the Congressional Budget Office and Joint Committee on Taxation.
o No more money from American taxpayers to subsidize the left-wing bureaucrats at the Paris-based Organization for Economic Cooperation and Development.
P.S. If you're in the mood for some dark humor, here's the federal government's satirical bailout application form.